Cloud Solutions
Arrow
2017-05-23T16:50:16+00:00
Plug into the cloud with confidence.
Simplicity with one access to multiple services.
Cloud Solutions for Business
Future-proof your business with simple and scalable solutions.
Take confident steps to the cloud today
There's a lot of talk about the cloud but it can be hard to know where to start. Perhaps you feel intimidated by the jargon and just want to know how it could help your business, right now.
Arrow can guide you through and help your business take confident steps to the cloud today. Future proof your business with scalable, flexible and secure cloud solutions.
Making the Transition
Store your critical data securely with Arrow Business Backup solutions

Collaborate with anyone,anywhere with Arrow 1 Click web conferencing
Features designed to make your business simpler, more flexible and productive.
Flexible and Scalable
When you plug into Arrow Cloud you'll have all your valuable business resources secure, streamlined and scalable. Adding some new staff or relocating premises? You have the ultimate flexibility with speedy deployment and no more downtime!
No More Complex and Expensive Onsite Infrastructure
No need for complicated hardware needing expensive IT maintenance, support and other operational costs. Save yourself time AND money.
Ultimate Security
Arrow's partnership with Australia's leading Data Centres in every capital city give you access to award winning and world-class security.
Premium Cloud Support
24/7 Australia based support whenever you need it. Our dedicated support team are here to help with any questions or concerns you may have.
Choice
Our access to Australia's premium and most innovative internet suppliers means you get the best connectivity…and the best price.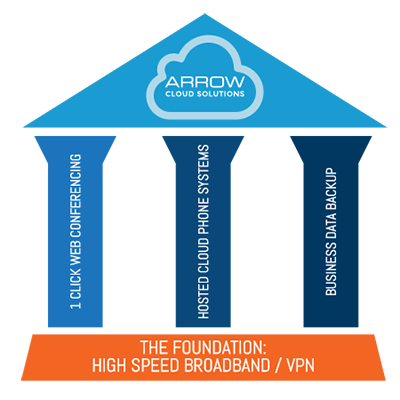 ARROW KEEP THE CLOUD SIMPLE
Think of the cloud like building a house. You start with strong foundations (in this case a fast and reliable internet connection) and then you add your structure which could include:
A hosted phone solution with the latest colour touch screen handsets

Secure cloud data backup – Arrow are partnered with Equinix, Global Switch and Next DC

Web conferencing with Arrow 1 Click – Take your business collaboration further with our web conferencing platform
HOW DOES YOUR CURRENT PROVIDER MEASURE UP?
Do you receive one bill for your services; phone, internet and mobile

Are you covered by a 100% onsite parts and labour equipment guarantee

Do you have access to Australia based 24/7 customer service support

Do you have a choice of carriers to ensure you get the best possible deal
Our Partners
Arrow's partnerships with Australia's leading Data Centres give you access to award winning world-class security and leading global business markets.
Over 2,000+ Satisfied Business Customers!