Servers
Virtual and on-premise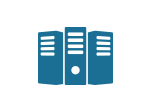 Server Configurations to Suit All Businesses
Choose from the market leaders in server technology

Custom Configuration and Fast Delivery Australia Wide
secure, reliable server environments
Arrow offer data centre rack hosting with Australia's leading data centre. Arrow's partnership with Australia's leading data centres in every capital city give you access to award winning world-class security and leading global business markets.
Virtual Servers
Arrow can advise, consult and install servers into your business IT environment.
Arrow Bundle Options
Enhance your solution with backup, IT support and firewall options
Over 2,000+ Satisfied Business Customers!