At Arrow we've been noting an increase in the frequency and reporting of phishing and scam emails.
Email security is of critical importance to business. We all rely on filters to weed out those malicious emails and on the whole they do a good job, but inevitably some still slip through the cracks.
Anyone can be vulnerable to a phishing email. Despite what you might know about phishing, every day methods are improving, and new users are falling victim.
Read on below for our top 3 tips to spot any malicious email loitering in your inbox!
1. Look closely at the actual senders email address
One of the most obvious clues for phishing can be as simple as the email address it was sent from. The sender/s are relying on you overlooking something as mundane as the email address your mail comes from. Some of the more preventable mail comes from free hosted platforms that are easy to give away just by looking at them. More advanced or sophisticated methods could show a legitimate email address, or a spoofed email address, so while this is a good step 1, it's not a comprehensive defence.
A good example can be seen in the email below. The email name is purporting to be from a multinational investment group, but the actual email address is something entirely different.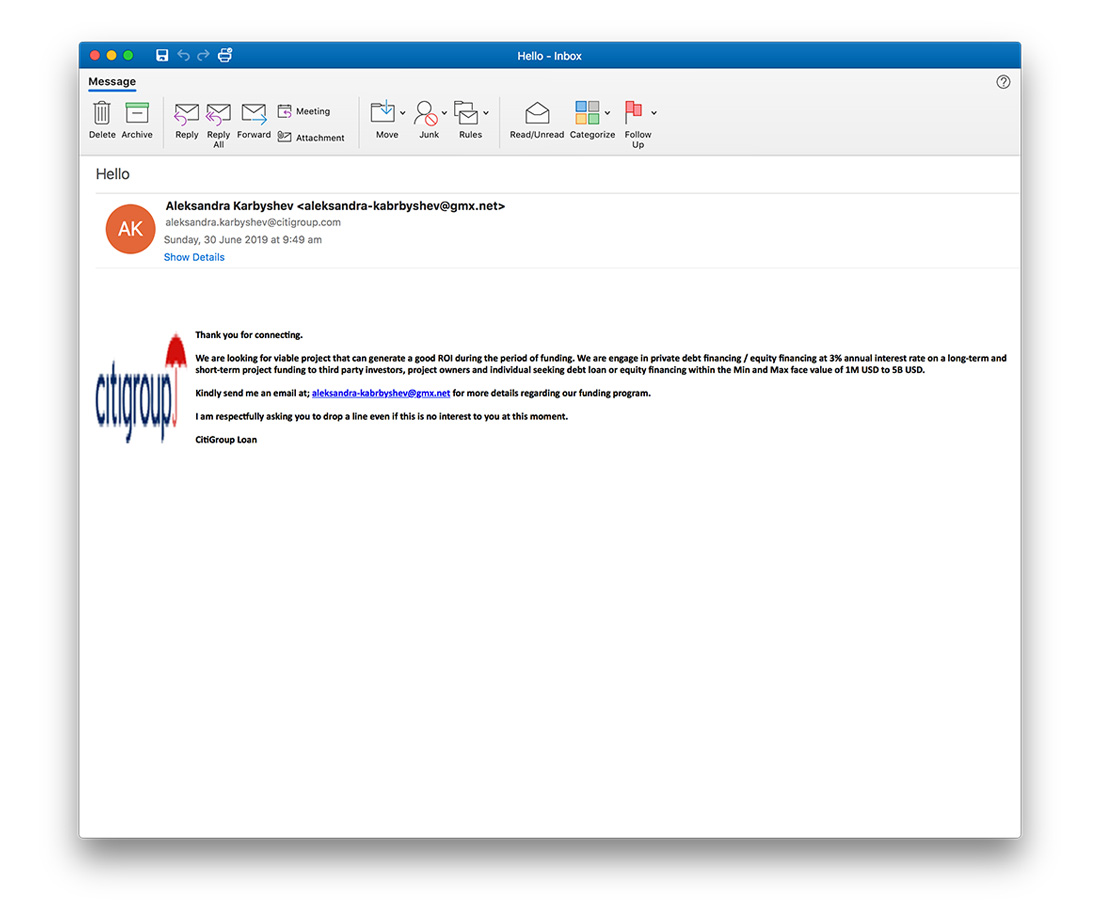 2. Grammar and spelling errors
Most scam and phishing emails originate from overseas. Have a close look to see if there are obvious spelling or grammatical errors in any mail you think could be suspicious. Although it's not just spelling and grammar, it could even just be an odd or unusual phrase.
There is a theory that this is used as a filtering system to prey on the gullible, but this isn't necessarily the case with phishing attempts.
3. Suspicious attachments or links
Almost all scams and phishing attempts require the user to click a link or download a file. We strongly advise that you never open an attachment unless you are fully confident that the message is from a legitimate party. Even then, you should look out for anything suspicious in the attachment.
As for links you might not be expecting, hover your mouse over (don't click!) a link to see if the destination address matches the linked address. Here's an example. https://google.com
This would appear to be a link to Google's homepage, but in actual fact is a link to the Arrow website.
I need help with my email security!
Arrow Business Essentials managed security platform includes email and web content filtering, drastically reducing your risk of falling prey to a malicious email.
It's always important to stay diligent, and in combination with an Arrow IT security solution, you'll give your business the best chance of never having to worry about your data or systems being compromised.