Call Reporting & Call Centre Reporting
For Avaya, Shoretel and Cisco Phone Systems.
Call Reporting Can Save You THOUSANDS!
Install Xima and be up and running with Call Recording in no time!
Standard reporting starts at $99.00
Ex GST per mth!*
Xima server PC/ Server Professional Remote Installation

Chronicall Reporting Software with Standard Reporting Module
*$99 Ex GST is based on a standard Chonicall remote installation over a 48mth period. Pricing is based on the new customer supplying a reliable and modern PC or server connected to the same LAN network as the phone system to run Xima Chonicall software. Remote access to the selected PC / server is required for the Arrow technical team to complete the installation.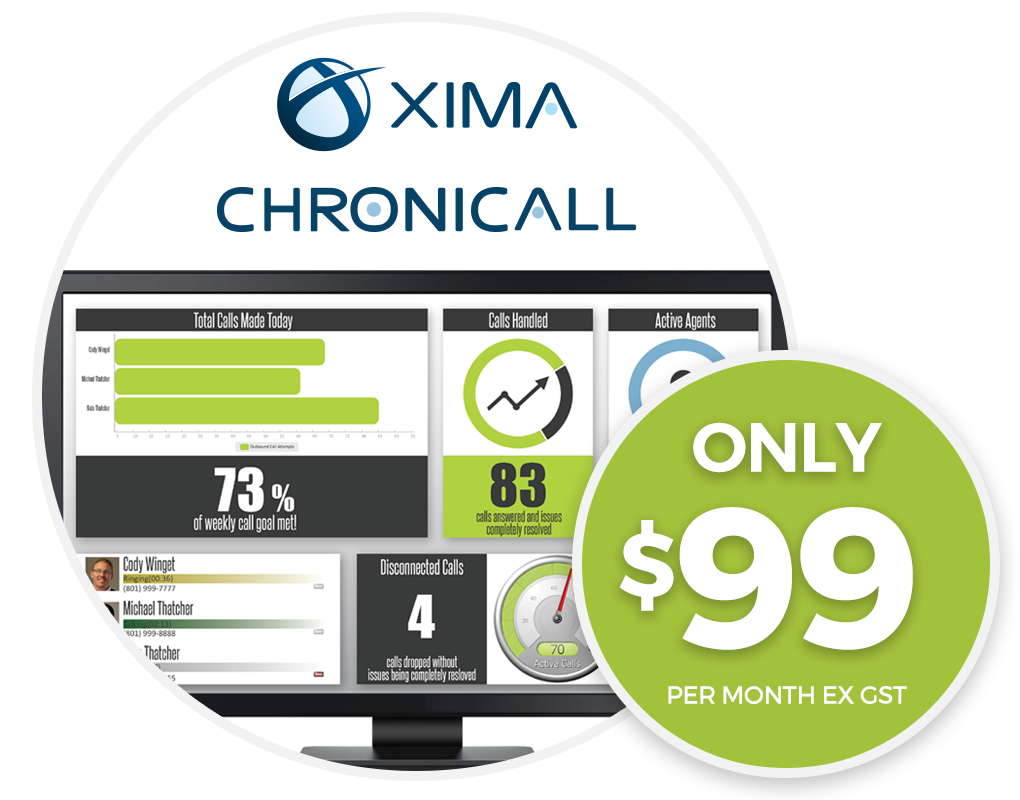 Arrow makes it so simple to open up a world of information from your
Avaya, Cisco and Shoretel Phone System
What can Call Reporting do for your business?
Improve staff productivity

Reduce missed calls

Allow you to understand exactly what's happening with your business calls

Provide real-time data and reporting to allow more effective staff management
Our Customers Rave Reviews!
"Arrow and Xima all I can say is wow"
Having access to this information is a game changer for my business
"With Xima we see everything"
My call centre manager immediately identified productivity gaps and opportunities to improve.
See Arrow's Call Reporting in Action!
Standard Reports
It's easy to get started with our standard reports. We have created over 50 reports, charts, and graphs that are ready for you to report on your data.
Our list of standard reports is made up of our customers most frequently used reports. You will start reporting like a pro within minutes and have access to information that was previously hidden. With 40 different reports so you can truly understand what's happening on the phones. These reports can show you detailed information about each call. Reports can easily be filtered so you can find the report that best fits your needs quickly.
Automate your reports to be printed or emailed, so it is truly set and forget.
Report filters include:
Agent / Extension Reports
Group Reports
External Number / Caller ID Reports
Call Direction
Call Costing
Time Interval
Trunk
Custom Reports
You know your business better than we do, so we have made it easy to create custom reports from your unique business data not covered in our Standard Reports.
You understand your business better than we do, that's why our Custom Reports Module allows your imagination to run free and create custom reports in minutes. A simple report wizard allows you to follow a simple step-by-step process allowing anyone to create a report in minutes.
Currently Xima allows for the following types of reports:
Agent
Account Code
Call Direction
Call Detailed Report
Caller ID / External Number
Event Type
Feature Type
Group
Local Number / DDI
System Report
Time Interval
Trunk
After you select the report type you are presented with all of Xima's default values. You can select the appropriate values and you can also apply filters to help you pinpoint the exact information you need.
Some additional highlights and features of the Custom Reports Module include the ability to be notified if a threshold is hit found within one of your custom reports. You can also change the look and feel of the reports which allows you to style the report to fit your company's branding.
Missed Call Reports
Solve the mystery of how many calls your business is missing.
This simple report allows you to fine tune your systems resources and positively impact your bottom line.
Identifying missed or abandoned calls is one of Xima Software's most requested features. Understanding and identifying where the bottlenecks are within your business has the potential to make a significant difference to your bottom line.
Why are you missing calls?
Currently Xima allows for the following types of reports:
Not enough incoming phone lines?
Wait times are too long leading to abandoned calls?
Your phone system is configured incorrectly
Our Solution Experts can assist with identifying areas of improvement and implementing strategies to minimise missed calls in order to improve your customer experience.
Recording Library
Automatically catalogues recorded calls and makes them ready to be listened to. Search functionality allows you simple and quick access to the calls you want to hear.
Fast and simple access to your call recordings now means nothing can come between you and the accurate call recording data your business relies on.
Now managers can improve employee performance without changing any business processes.
Chronicall's Cradle to Grave Application provides you with all the information you need to evaluate your employee's performance.
Xima call recording allows calls to be recorded and search based on a number of criteria to enable fast and simple retrieving.
You can be specific as to what calls are recording and set simple and flexible rules based on:
Extension
Group
Incoming Phone Number
External Numbers
Manual Recording
Percentages
REALTIME Reporting
Brings you better real-time statistics and detailed reports to make management of your staff simple and assist training and development.
Realtime
allows you to effectively manage your agents in Realtime.
You are given three supervisor wallboard displays:
Agent Timeline
Group Timeline
Realtime Stats
This information is displayed LIVE as it is happening with no delay.
As soon as a call comes in or an agent's status changes, Chronicall incorporates the new data into the unique Agent Timeline, Group Timeline, and Realtime wallboards.
This module also allows you to track specific feature events like Agent DND (Do Not Disturb) Time, Group Login and Logout Time, and Idle Time.
This information is tracked and then recorded to the database which allows you to report historically on the agent's performance.
With the Agent Timeline, you can see each of your agents' current activities and statuses in a simple timeline format. Unlike other reporting software that only shows what your agents are doing at the moment, the Agent Timeline leaves behind a record of each agent's behavior in the past. This gives you a contextual understanding of the data and allows you to make critical decisions with confidence and accuracy.
Accurate queue statistics are vital for efficient call center management. The Group Timeline displays these statistics for each hunt group with a set of continuously updating graphs representing the number of queued calls, the longest wait time, and the average wait time side by side. As calls enter or leave a hunt group's queue, the graphs change accordingly, giving you the knowledge you need in order to adjust your resources in real time.
With Real-time Stats you can customise any screen into a wallboard.
Arrow Specialists can install large 55" or 65" Smart TVs to make your information clearly visible to your whole team.
Chronicall wallboards offer scrolling marquees, charts, graphs, text boxes, agent and group leader boards.
These widgets can contain virtually any value about your agents and groups and be customised for yourself or your entire team so that it looks and works like your own custom-branded software.
Agent Dashboards
A revolutionary solution bringing real-time data to your desktop and offering an easy way to see the status of other users. Ask to see this as part of your demonstration
Agents can keep track of customised Realtime data that can help them ensure they are on track to hit and exceed their KPI targets.
Agents can monitor statistics about themselves, their groups, or the entire system without opening Chronicall or looking at a wallboard; everything they need to know is available on their own screen at all times.
The Dashboard window can be resized or docked to their screen for maximum flexibility, while multiple animation settings allow agents to choose the style they like best. These displays are 100% customisable and controlled by the system supervisors and administrators.