Arrow Projectors
Projectors designed for business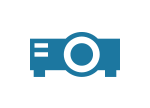 Present In Style
Equip your meeting rooms and boardrooms with our selection of business projectors.
The Arrow Business Essentials team can deliver, install and support your projector requirements.
Complete on site hardware support

Choose from a range of feature-rich models

Create the best impression as you present to staff, customers and clients
Arrow Bundle Options
Supercharge your solution with productivity enhancing products
Over 2,000+ Satisfied Business Customers!