Sentre Firewall
Hosted Solution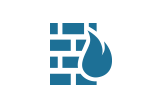 Sentre Firewall – A Fully Hosted Firewall Solution
A secure internet service that can be directly connected to your broadband access and private networks.
SENTRE FIREWALL FULLY HOSTED SOLUTION
The Sentre Firewall provides a secure Internet service for users that can be directly connected to their broadband access and private networks. The Sentre Firewall offers unified threat management services within a highly secure operational infrastructure for Access Control, VPN Access and Intrusion Protection.
SECURITY MADE EASY
The solution is designed to meet firewall and security needs, freeing customers from having to invest in, build and operate their own network security equipment or requiring security specialists to meet their network security requirements.
TRAFFIC THROUGHPUT OPTIONS
Sentre Firewall is offered with five different peak throughput speeds. Optional higher access speed up to 100Mbps can be available upon request.
CENTRALISED INTERNET CONNECTION
Sentre Firewall can also provide your single Internet access solution to stop the effects of tromboning at your head office sites. Internet traffic is offered in two modes – Data Usage Plan and Fixed Bandwidth.
UNIFIED THREAT MANAGEMENT
Sentre Hosted Firewall safeguards business networks by deploying Unified Threat Management (UTM) services. The services include, but are not limited to, Security Policy Management, Firewall, Anti-virus, Anti-spam, Intruder Protection, Web Filtering, VPN (IPSec-based VPN tunnels), Traffic Prioritisation, Logging and Reporting.
REMOTE ADMINISTRATION
Sentre Firewall provide remote administration access through a Management Portal that allows users to check their Firewall operation, change settings, and produce reports.
Arrow Bundle Options
Enhance your solution with cloud phone, IT support and backup options
Over 2,000+ Satisfied Business Customers!